Remote onboarding: welcoming new hires virtually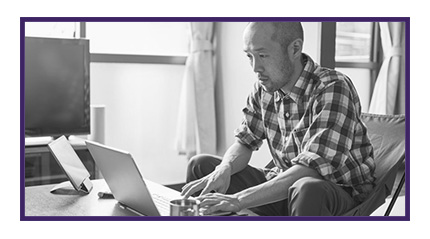 As states around the U.S. move into various stages of reopening, many employers are choosing to let workers work from home for the foreseeable future—and are faced with the need to use remote onboarding to get new hires up to speed.
This is a big challenge. How do you bring employees into your organization and make them feel welcomed, excited, and like a valued member of your team?
"It's about people," says Kaelyn Phillips, Monster's director of global talent development. "I know that sounds cheesy, but it's about making connections and making sure the person feels that they have joined a place that wants them and a place that welcomes them."
Try these strategies to ensure that your new employees feel the love even if you can't see them face-to-face:
Make them feel welcome
Someone's first day on a new job via video call won't be the same as the experience of reporting to the office, so you'll have to create some of the vibe yourself. Beyond just a welcome email, some employers send a "swag" kit to new hires. Miro, a virtual whiteboarding platform, mails new employees a company hoodie, some stickers, and a branded water bottle, among other things. "Having those symbols of the culture and feeling like someone cared enough to do that [are important]," says AJ Josephson, Miro's head of people.
Other ideas: That lunch that a new employee would've had with their team or their boss (or both): Have it virtually. Make it a video lunch call, and everyone brings their lunch.
It's also a good step to make sure that new employees are equipped for what they need to do. If they need a laptop, ship it to them or have them pick it up ahead of time. If there's proprietary software they need to get their job done, make sure they have access to it. This is just another way to demonstrate that you were expecting them and welcoming them to the team, and it will help them get up to speed quickly.
Help them meet their coworkers
It's hard to introduce a new hire to people in the organization if they're not in the building, and a large zoom call can be overwhelming. Consider how you'll familiarize new talent with their team (and the team with your new talent). Send an email, for instance, letting everyone know that a new hire has arrived. "Those introduction emails are big, letting everyone know who this person is, so when they're on the call they're not too shy to interact," says Kylie Cimmino, a consultant with HR consulting firm Red Clover HR.
At Miro, the company breaks the larger zooms into small groups to help people get to know each other. They even recently had everyone in their Amsterdam office play a board game together virtually.
Miro also onboards hires in groups of five or six, even from geographically separate offices. "Over three weeks, they go through different sessions together, they learn the company's values, they give each other feedback, they meet role models, they learn key structures," Josephson says. "From the beginning, they're learning together and creating socialization."
Another strategy: Set up a schedule so that every day for the first week or two, someone makes an appointment with the new hire and checks in and introduces themselves. "It doesn't even need to be work-related," Phillips says. "It's a chance to get to know the person and to make sure everybody is acquainted. It's making sure people feel connected."
Solidify your onboarding processes
One of the challenges of working remotely is that things that would have been implicitly learned in a team setting must be explained to people who all are working from separate places. "If there's a certain way things are done, create a standard operating procedure and it can be followed, allowing someone the freedom to say, 'This is how we do this,'" Cimmino says.
Josephson, at Miro, found this to be true for their company. "Distributed teams need way more documentation to let people know what to do," he says. "That's the stuff we've had to build out, particularly for our product development teams."
Don't drop the connection
Make sure you pass the ball from HR to department managers, a process that gets trickier when a team member isn't on site. Many of the visual checks and balances—"Am I supposed to be in that meeting?"—are missing when someone's telecommuting.
"In real life, when we go from that initial onboarding that's traditionally owned by HR and execs and we hand the ball off to the department people, it's not always the smoothest," Calli says. "It's going to be the department managers who are going to notice, 'Hey, so-and-so's supposed to be on this call.'"
Consider creating checklists or other safeguards to ensure that when you hand off new hires to their new teams, their new teams have created procedures to include them in ongoing operations.
Check in frequently
You can't check on remote workers by strolling past their desk five times a day, so it's important to stay in touch with them and make sure they have everything they need—but you also don't want them to call you 15 times a day. One strategy: For at least the first week, there should be morning and evening check-in calls with the manager.
"Many people will say, 'I don't have time to have two phone calls with my new hire every day,'" Phillips says. "But if the manager doesn't do that, the new hire is going to ping them [all day] and say, 'I don't understand this.' Whereas the manager can say, 'Log all your questions and ask them to me at the end of the day,' and it gives everybody a chance to breathe, and the new hire knows there's going to be a time when they can connect."
Assign a buddy
Another way to help a new employee get to know the employer and its routines is to link them up with a buddy or an "insider" who can show them the ropes, so to speak. They can talk about culture and help them get familiar with the ins and outs of working there. And in a virtual environment, it's even more important for this person to check in with the new hire frequently, since they won't have casual visual contact with them in the office.
"The insider has to go out of their way to schedule different times to meet with the person," Phillips says. "They have to make a concerted effort to check in, and to encourage the new hire to use them as a resource. There are a lot of people who are going to go, 'I don't want to bother them about this,' and it's really up to the insider to make sure they become the resource." (Tip: Make sure the insider has time for this kind of outreach, because it's not a small job.)
Another bonus: A buddy or insider is another connection who can loop a new hire into regular routines, such as making sure they know there's a standing Thursday status meeting.
Embrace remote onboarding technology
Joining an organization comes with a certain amount of administrative paperwork. If you're still working in paper forms and you haven't adapted to the new distanced reality, you may be behind the curve.
An intranet messaging service like Slack allows workers to communicate with each other as though they're in the office together, with add-ons like Donut that can message new hires and keep them on track.
"Those companies who have embraced those kinds of processes because they were trying to be efficient and green—now those processes are benefiting them in a socially distanced, geographically dispersed time in our lives," Calli says. "If you have that, you're ahead of everybody who doesn't."
The world of hiring, recruitment is changing fast, and we're all learning how to adapt to new ways of doing things.