What is TextRecruit?
TextRecruit is a FIPS 140-2 certified candidate and employee engagement platform that helps you communicate with your candidates over text message and live chat at scale.
Candidates respond in minutes and actually prefer the experience texting brings. Recruiters get more responses, faster responses, and an easier way to engage candidates than through email.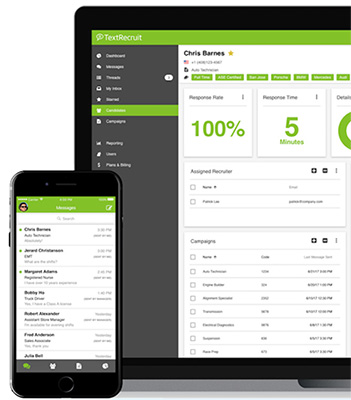 TextRecruit enables recruiters to: 

Personalize text messages to multiple candidates at once to get candidates down the funnel, faster
Save time by using artificial intelligence to automate screening and scheduling so recruiters can focus on strategic activities like evaluating fit
Quickly convert clicks into conversations by engaging candidates through their preferred medium – texts – to build more personal relationships
Share text streams with other recruiters to ensure a smooth hand-off when sharing workload or when a recruiter is on leave

TextRecruit enables organizations to:
Stay compliant with the federal CAN-SPAM law by honoring opt-out requests
Maintain a record of recruiter texts for organizational audits
Analyze effective campaigns and texts to better allocate resources

What does TextRecruit accomplish?
The benefits of text-based recruitment are simple. It is accessible, it is convenient, and you can expect to see a 99% open rate and an average 37% response rate near real-time. Overall, it's a more efficient way to communicate with talent in a way they want to be reached.
"We sent our first text campaign out through TextRecruit and tripled the funnel of interested candidates for the position." – Mathias Connot, Senior Sourcing Manager, VMware
Why is TextRecruit unique?
TextRecruit enables recruiters to generate new leads, use artificial intelligence to screen candidates and to save time, and text with multiple candidates using a single platform.
Why waste time crafting beautiful emails no one reads? Spend your time on something that has proven to be hands down, significantly more effective and engaging than email.