Workforce Summit 2019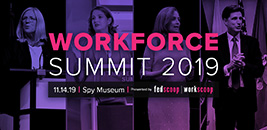 Federal agencies have made unprecedented investments to modernize systems and improve services for American citizens. But there's a major looming issue keeping CIOs, CTOs and other technology leaders up at night: the workforce.
To help agencies recruit, retain and reskill top tech talent, the White House has committed to developing a 21st century workforce, introducing new hiring authorities and talent development initiatives.
FedScoop and WorkScoop will bring together C-level government and industry leaders to look at how the federal government is working to fill critical skills gaps, enable a more efficient and effective workforce, deliver on its mission and better serve citizens.

Learn more



Applicant Assessment: Introducing Science to Selection Webinar  
Measuring your applicants against critical job competencies is the best way to make effective hiring decisions. In addition to an Occupational Questionnaire and Hiring Manager Interview, Federal agencies have a variety of selection tools at their disposal, including integrated online assessments.
The inclusion of an online assessment can help reduce applicant score inflation, measure key job competencies, and provide a more reliable picture of applicant quality.
This webinar will introduce the Monster Applicant Assessment product – fully integrated within Hiring Management – and discuss its use in a multiple hurdle assessment process. Monster Applicant Assessment allows Hiring Management clients to add a custom or off-the-shelf assessment to a vacancy announcement and automatically capture applicant scores. In this webinar, you will also learn the importance of aligning your assessment tools with job analysis results and methods of validating assessments.
By registering for this webinar, we'll show you how to:
• Implement assessments at your agency using Hiring Management
• Understand the assessment process from job analysis to assessment administration
• View how to complete an assessment from the applicant's standpoint
• Ask questions about Applicant Assessment at your agency

In addition, a member of the MGS Organizational Psychologist team will discuss:
• Selection tools available for Federal hiring
• Using multiple hurdle assessments
• Job analysis and policy compliance
• Impacting organizational performance with assessments

Download the On Demand Webinar