Thank you!
Please download the presentations below.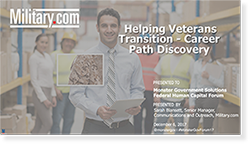 Accelerating Veteran Employment
Monster and Military.com have a long history of connecting veterans to jobs and employers to veterans. Together, they offer a variety of free tools and resources to help transitioning service members prepare for civilian jobs. This session showcased these innovative tools as well as discussed the resources available to help you find and hire veterans.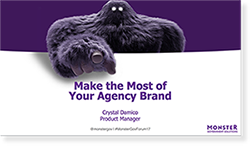 Making the Most of your Agency Brand
In today's competitive hiring landscape, agencies must work even harder to source, attract, and retain talent. Your agency brand can be used as a powerful tool to generate interest among passive and active candidates. This session defined what agency branding is and why it is important to your mission.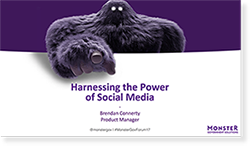 Harnessing the Power of Social Media
Social media platforms have changed the game for recruiting. Recruiting expectations among job seekers and employers alike are drastically different today than just a few years ago. This session covered the social media recruitment tools available today that can help you find the best talent for your agency.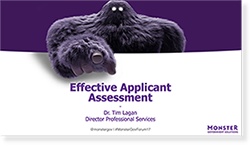 Improving Quality of Hires
Effective applicant screening has a direct impact on your ability to achieve the agency's mission. Our team of Industrial and Organizational Psychologists have developed and administered a variety of selection assessments measuring critical job competencies. This session covered various assessment methods and tools that can be used within the Monster Hiring Management Applicant Tracking System.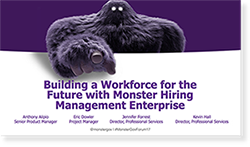 Building a Workforce for the Future with Monster Hiring Management Enterprise
(Your sales representative will contact you to share this presentation)
More than 60 federal agencies and departments, as well as hundreds of thousands of users, rely on Monster Hiring Management Enterprise (MHME) every day to power and transform their talent acquisition efforts. Monster continues to enhance the MHME suite to help you quickly find, assess, hire, and onboard top talent. This session showcased MHME capabilities and its latest features, as well as sharing the MHME product roadmap for 2018 and beyond.