Thank you for attending the Monster Government Solutions Federal Workforce Forum 2018!
Please download the presentations below.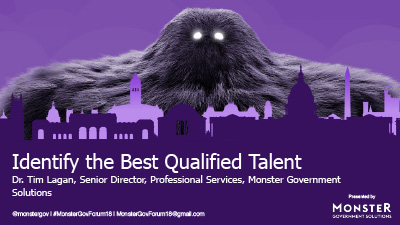 Identifying the Best Qualified Talent
It's something federal agencies ask us all the time: "How can we hire better quality talent within our agency?" Selection of high-quality applicants for critical vacancies has a direct impact on an agency's ability to achieve its mission. We will introduce the Monster Applicant Assessment product and share use cases of how agencies are using them to identify the best-qualified applicants.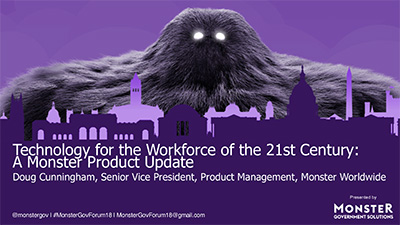 HR Solutions for the Workforce of the 21st Century: A Monster Product Update
(Your sales representative will contact you to share this presentation)
In the President's Management Agenda, the Administration calls on agencies to re-evaluate current HR processes and technology to support the modernization of its workforce. During this session, we will share how Monster aligns private sector innovations with public sector requirements, review MHME product highlights from 2018, and share a look at our future product direction.