Rebuilding after coronavirus: The benefits of hiring veterans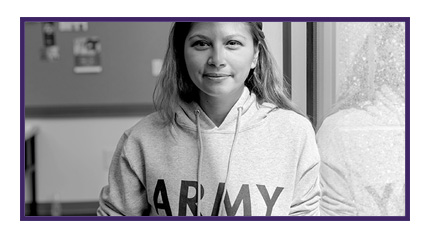 As organizations look to restructure and recover from the impact of the coronavirus crisis, there's one group that's uniquely qualified to do the job: our veteran workforce. There are so many benefits of hiring veterans—they have both the technical and soft skills required to help businesses rebuild and restructure in a post-coronavirus environment. Plus, they've got the experience in key areas where many organizations urgently need help: healthcare, logistics, and supply chain roles, to name a few.
To help fill in the gaps in essential workforces amid COVID-19, more than 17,250 National Guard troops have been deployed across the country, constructing temporary hospitals, delivering supplies, clearing roads, manning call centers, and taking coronavirus samples at testing centers.
"Veterans are trained how to handle crises and adversity from all the different types of issues that they come across throughout the military, so they're definitely well equipped to handle any type of crisis that happens in the workforce," says Ryan Eden, Veteran Employment Manager at IT services company PRISM, a winner on Monster's annual Best Companies for Veterans list.
Just as military men and women are currently helping battle the pandemic, hiring veterans will be more crucial than ever to helping employers emerge stronger from crises of their own.
Veterans have the qualities organizations need to rebuild in challenging times
 Recruiters commonly say they struggle to find candidates with skills in communication, problem solving, managerial leadership, and teamwork, according to Monster's 2019 State of the Recruiter Survey. As you start to build your post-crisis recruitment strategy, it's important to note that veterans and transitioning military are well versed in a wide variety of abilities like these.
"Veterans come to us with a tremendous work ethic, get-it-done attitude, ability to problem solve, an understanding of how to work in a team and independently, as well as the ability to remain calm in a storm," says Toni Potter, Director of Recruiting and Employee-Owner of AMERICAN SYSTEMS, another Best Companies for Veterans winner.
Gary Patton, CACI Vice President of Veteran and Military Affairs and a retired Major General of the U.S. Army, echoes these beliefs and says that adaptability, versatility, innovation, and creativity will make veterans extremely valuable in this new environment, especially as companies explore new ways to accomplish work. "Proven leadership in the face of adversity will be very valuable in the post-coronavirus work environment," he says.
Veterans are highly trained for the jobs most in-demand right now
In addition to having all the right soft skills, veterans also possess leading-edge training and expertise. "Now more than ever, we have the opportunity to tap into the skills sets of our country's veterans who are uniquely suited to help in the aftermath of the pandemic," says Sarah Blansett, Director of Operations and Strategic Partnerships at Military.com. "The critical jobs that will need to be filled directly relate to many military job codes, making skills translation and reverse skills translation an important factor in connecting veteran job seekers with those looking to hire them."
Skills translators like the one at Military.com can help veterans translate their military skills into applicable skills for civilian jobs. Additionally, Military.com's Reverse Military Skills Translator can help you find military occupational classification codes for the job you are looking to fill, helping you to better understand how your open job corresponds to a military candidate's experience.
For example, when you consider occupational fields like infrastructure (e.g., commercial construction, bridge overpasses facilities, etc.), Bob Berkholz, a veteran of the U.S. Marine Corps and a recruiting manager and senior partner at Orion Talent, says there are very similar military specialties, such as the Civil Engineer Corps, Corps of Engineers, and combat engineers, that directly correlate to those types of civilian jobs.
"Not only do veterans have the skill sets gained from the hands-on experience in the military, but they often also have fantastic leadership abilities, especially compared to their civilian counterparts," he says. "Veterans can step into any corporation as we come out of the coronavirus and really be impact players."
Veterans and military spouses are uniquely positioned for remote and WFH work
While social distancing has emerged as one of the most effective ways to combat COVID-19, many organizations have restructured and adapted to new work-from-home (WFH) policies that are likely to continue post-coronavirus. "To work remotely requires a certain discipline, as many are finding out these days," Potter says. "Military members are deeply rooted in discipline and know what is required to be self-sufficient and completely dedicated to task and mission."
In the military, service members commonly go from one duty station to another, and their mission may change drastically with each move. Yet, they're still required to maintain a high level of performance. Berkholz says veterans are more than capable of replicating that same, high level of performance amid today's changing business landscape. "As we come out of the coronavirus and as you onboard veterans in whatever function it may be, it's important to remember that this is a transition veterans are very accustomed to already, so they'll become an immediate contributor to whatever company they may go into."
When considering the benefits of hiring veterans for remote work, it's important not to forget about the characteristics that military spouses can bring to an organization. Thinking back to the times his wife moved as a result of his deployment, Patton also says it's important to remember that military spouses are "very self-sufficient, adaptable, and equally committed to getting the job done."