Conduct Structured Resume Reviews
with MHME and the Collaborate module
OPM announced earlier this year that a Structured Resume Review, consistent with OPM guidelines, can be used as a valid assessment hurdle to meet EO 13932 requirements. MonsterGov participated in OPM's Structured Resume Review training to better understand OPM's process and better guide MHME users on how to leverage their talent acquisition system.
A few items to note about Structured Resume Reviews:
The resume review is conducted by a trained panel of SMEs (two or more) to determine if an applicant has the required specialized experience necessary to perform to job based on their resume content after the HR specialist prescreens applicants for basic eligibility and occupational education requirements.
Structured Resume Review is most appropriate for situations where the job is highly specialized/technical in nature and a low applicant volume is anticipated.
The Structured Resume Review is pass/fail only.
If SMEs disagree, you can use a consensus OR tie-breaker (third SME) approach to resolve.
Agencies are responsible for determining their own assessment policies and procedures. Below is the process recommended by OPM with the inclusion of how MHME can support. The Collaborate module within MHME will be the primary tool agencies can use to work with SMEs on conducting these reviews.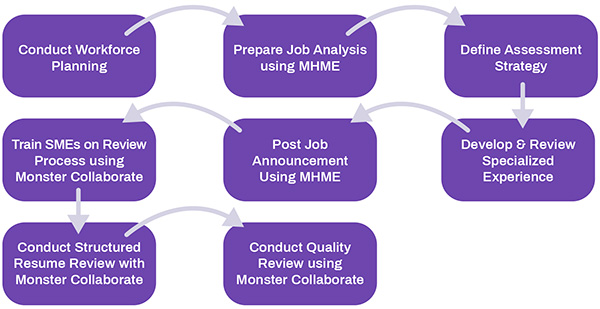 For additional support on how to use Collaborate, register for the Fall training on this module.