78% of HR leaders said finding top talent was their number one challenge.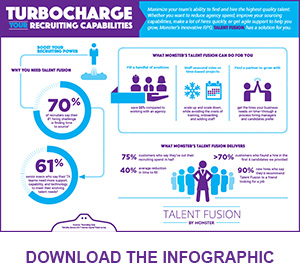 What if there was a solution that delivered prequalified talent to you? Whether you're looking to fill a single role or recruit a large workforce, Talent Fusion™ by Monster can help you find better talent.
Talent Fusion™ by Monster provides comprehensive recruiting and sourcing solutions delivering top talent to fulfill your organization's growing talent demands. Whether your goal is to quickly expand your workforce, hire critical talent or build a proactive sourcing strategy, Talent Fusion has the answer.
Listen to this 30 minute on-demand webinar and download the presentation to learn more about Talent Fusion™ by Monster. 
We discuss:
Recruitment landscape
Tactics to source, engage, and select talent 
What is Talent Fusion™ by Monster?