Coming Soon!

Automatic, VA-Verified Veteran Adjudication

Monster Government Solutions is excited to partner with USAJOBS to bring the HR community the automatic Veteran adjudication and claim verification through integration with the VA. USAJOBS will offer Veterans the ability to directly transfer their Service information from the Defense Enrollment Eligibility Reporting System (DEERS) and Disability Information from the VA to their account with USAJOBS. When the Veteran applies for a position, MHM will receive this information and display it to the HR Specialist, along with clear guidance on the information source. This integration saves time for Veteran applicants, reduces the burden on HR staff to verify claims, and ensures eligibility claims are accurate.

Here are just a few of the benefits brought by this new functionality:
Saves time for Veteran applicants

No need to find and manually enter information
No longer required to submit copies of DD-214 and Disability Letter (HR may still request this be submitted)

Confirmed eligibility

Automatic verification for Veteran Preference, as well as Special Hiring Authority claims
Reduces burden on HR Staff to adjudicate/verify claims

Reduces mistakes

VA is the source for the most up-to-date service history
Automated system provides consistency and repeatability
We encourage Monster Hiring Management users to test this functionality during the UAT period, as your review and feedback prior to production launch is always greatly appreciated. Both Monster Government Solutions and USAJOBS understand this change is impactful to HR policy, and therefore, strongly recommend reviewing these changes to allow you and your Agency policy team an opportunity to understand the potential impact in advance. USAJOBS is implementing a soft launch of this new functionality and will continue to allow Veterans the option of using this new integration or manually entering the data as they do today. Supporting materials and resources around this initiative can be found below.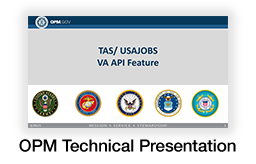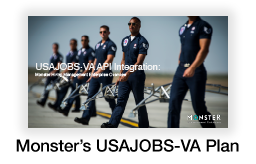 To access the resources above, please complete the form below.
Want to learn more?
Contact your professional services representative today.

Contact us >