Actionable Advice to Help You Engage Employers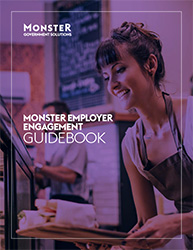 Monster recently conducted a nationwide survey of employers, to help uncover what employers understand about WDBs,the services they look for, and the information they need most.
From the survey results and our experience of connecting job seekers and employers for more than 20 years, we have developed the Monster Employer Engagement Guidebook to provide you actionable employer engagement advice. The guidebook covers three main areas to help you:
Generate Awareness
Develop the Right Mix of Services Aligned With Employer Needs
Use the Right Channels to Communicate With Employers

Download the Employer Engagement Guidebook and Survey Results


Hear From Workforce Leaders on Employer Engagement
Watch the highlights from our Effective Employer Engagement workshop at The Forum 2017 to learn what workforce leaders had to say about leveraging technology and facilitating communication and engagement with employers.